Elastic Stretchable Simple Couch cover-Gray
Secured and trusted checkout with:
Refresh the sofa that you love! 
Our Sofa Covers will transform your sofa in a chic new style. Crafted of a polyester and spandex blend, it contours to your couch for a custom-like fit. Sofa Stretch Slipcover brings a stunning style to your home decoration while keeping your furniture protected from pet hair, spills, stains, and save your money. 
SLIP-RESISTANT: Incorporating a high-quality elastic hem, dual fastening straps and foam gap inserts, our elastic sofa covers will stay tight and in-place during normal, everyday use, providing secure and long-lasting protection.

DUST-PROOF & STAINPROOF: A must-have for homes with children and pets, this couch cover protects your furniture from dust, stains, wear, and tear while offering a fresh look. 
EASY TO CLEAN: 

All of our sofa covers are machine washable, so you can clean them at any time quickly & easily. Simply wash, dry, and re-use again!
SOFT & DURABLE: Made from comfortable and lightweight polyester fabric, our elastic sofa protectors resist wrinkles and fading. Just quickly dab or wipe up spills to prevent it from penetrating the fabric.
FITS EVERY COUCH: We have multiple slipcover sizes to fit virtually every sofa, recliner, or sectional no matter the size.
Example Sofa Types: 
Specifications of Sofa Covers: 
Item Type: Stretch Couch Cover
Design: Simple Cross Texture Pattern in Various Colors
Qualities: Fade, Shrink and Wrinkle Resistant
Benefits: Easy-To-Install, Protect from Dust, Dirt, Spills & Wear
Uses: Couch Cover, Sofa Slipcover, Office Chair Cover
Material: 92% Polyester + 8% Spandex
Filling: None
Construction: Woven with Reactive Print
Care: Machine Washable
Weight: 600-1200g
Kindly measure the size of your sofa carefully. Take account of the armrests too. If you do not take the armrests into account, the sofa cover might not fit on your sofa.
How to Choose the Sofa Cover
For L-Shaped or Sectional Sofa, we would suggest the purchase of 2 covers. The size of the cover will depend on the length of AA, BB and CC lines.
If AA=145-185cm, BB=190-230cm, please go for 2pcs: 2-seater + 3-seater;
If AA=190-230cm, BB=235-300cm, please go for 2pcs: 2-seater + 3-seater.
How to Install Sofa Cover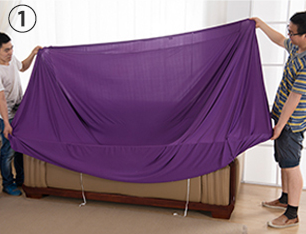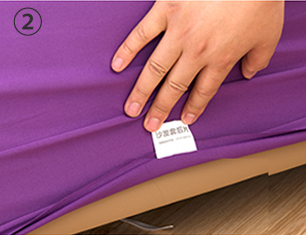 2. Check the front and back of the cover.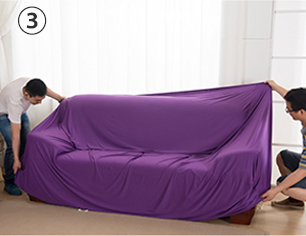 3. Cover the sofa in the right directors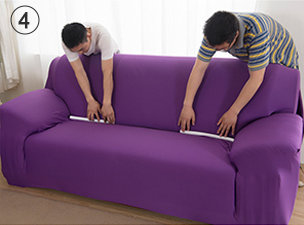 4. Slip the foam bar into the gap